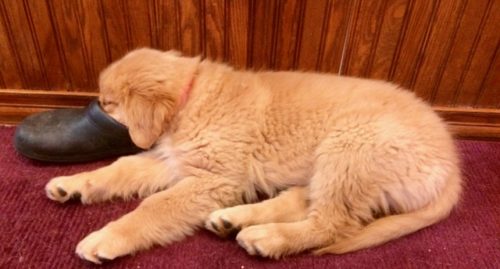 The Greater Twin Cities Golden Retriever Club wants you to find a happy, healthy puppy that will have the best chance to be part of your family for the dog's lifetime. Remember you are committing to a dog not a puppy, and while no one can promise you how long your dog will live, you will find many Goldens live to be more than ten years old.
For that reason, we recommend you buy from a breeder who agrees to abide by the Golden Retriever Club of America's Code of Ethics http://www.grca.org/thegrca/code.html, and to provide health clearances for both parent dogs. We also offer these tips:
If you are considering getting a puppy from a nearby breeder, you should insist the breeder let you meet the mother and see the environment where the puppies are being raised. In many cases the sire of the litter is not living with the dam, so not meeting the father of the puppies is not unusual.
Insist the breeder to provide you copies of the parent's health clearances for:
Hips (checked after age two)

Elbows (checked after age two)

Heart (checked once by a veterinary cardiologist)

Eyes (eyes must be checked every year)*
If the breeder won't provide those clearances, we recommend you not buy from that breeder.
IT IS NOT ENOUGH THAT THE PUPPIES HAVE BEEN "VET-CHECKED."
That shows that the puppies have been given an once-over, had some shots, and perhaps, been wormed. It says nothing about possible genetic problems in the puppies' background that could affect your pup.
"Can I get a puppy right away?"
If you want a well-bred puppy, likely not. Most reputable breeders only breed one or two times a year, or not even every year. This allows for good care and socialization for the pups and their mothers. Be prepared to wait for a bit or be put on a waiting list.
"Will I get to choose which puppy I want?"
Sometimes, but often not. Certainly, you can specify whether you want a male or female, or a "show" or "pet" pup, but most reputable breeders like to match puppies with their owners. Just like people, some puppies are more outgoing or more high-energy than others. It's why reputable breeders have questionnaires or ask a lot of questions.
What does "championship lines" mean?
Not much. It simply means that, somewhere in the puppy's background, one of its ancestors achieved an American Kennel Club championship.
If you have the pedigreed names of the puppy's parents, you can look up parent's pedigrees on http://www.k9data.com/. Search using the registered names without any titles. This site also shows health clearances. Some things you might see:
GCH or CH: Grand championship or championship in the the conformation ring, where they're judged on how the "conform" to the standard for Golden Retrievers.
OTCH: Obedience champion
MACH or PACH: Agility champion
WC/WCX/JH/SH/AFC/FC: Working Certificate/Working Certificate Excellent/Junior Hunter/Senior Hunter/Amateur Field Champion/Field Champion. (Hunting and field trial titles.)
Where's a good place to find out Golden Retriever breeders:
Go to a dog show.
Check http://www.onofrio.com/ and/or http://royjonesdogshows.com/ for when there will be nearby dog shows. Find the Golden Retriever people and talk to them.
Go to a meeting of the Greater Twin Cities Golden Retriever Club. The people are friendly and knowledgeable. Meetings are monthly and listed on our website and Facebook pages. (You will not be pressured to join the club.)
Great information for potential Golden Retriever buyers: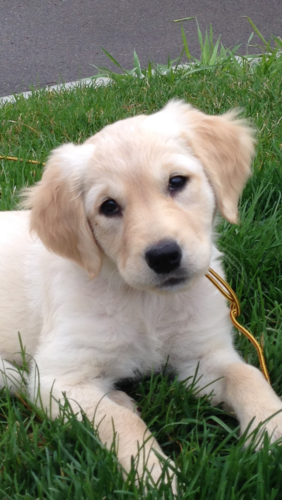 The GRCA (Golden Retriever Club of America) has a consumer booklet and education guide. You can view it online: http://www.grca.org/allabout/a_find.html.
Additional information about Goldens can be found at: http://www.grca.org/, including the following articles:
Here are a few more articles to help you get started in your search for a Golden.
---
*The Orthopedic Foundation for Animals is an organization dedicated to improving animal health. The minimum testing for Goldens is for hip dysplasia, elbow dysplasia, congenital heart problems, and eye problems. Hips, elbow, and heart clearances are good for a lifetime, but eye examinations must be done annually by a certified veterinary ophthalmologist. These tests are expensive, but crucial and is why well-bred Goldens can cost more than those without health testing.
You will search using the registered name of the sire and dame without their titles (CH, CD, JH, etc.)